Health Benefits Of Cinnamon
Although it may not become a significant part of your diet, it is still good to know a few of the health benefits of cinnamon, as well as few practical ways you can consume it.
Benefits Of Organic Cinnamon
As with any food, it's best to consume organic cinnamon, because sprays and pesticides can harm the cinnamon and can also pose minor health risks. So when you're shopping for cinnamon online or in the store, be sure it is labeled "organic."
Those suffering from diabetes, high blood pressure, high cholesterol, or other such health problems, are likely to experience improvements in their health by consuming small quantities of cinnamon. Cinnamon is not officially classified as a "blood thinner" but it does help the blood stay at a healthy consistency (not too thick or sticky), and can therefore have "blood thinning" effects on those dealing with high cholesterol and high blood sugar levels.
It's important to note, however, that if you are suffering from any such health problems and are taking aspirin or other such medications, it can be risky to consume medications along with cinnamon, because of the blood thinning effect. If you are already taking medications, I advise you to do your own research to find out how to best integrate cinnamon into your diet without putting your health at risk.
But for those who simply want to maintain a healthy body, cinnamon does a good job at making that happen. Cinnamon may help to improve mental functions, to inhibit the growth of bad bacteria, and to regulate blood sugar levels. Because of its ability to prevent growth of bad bacteria, cinnamon can act as a preservatives to help keep certain foods fresh.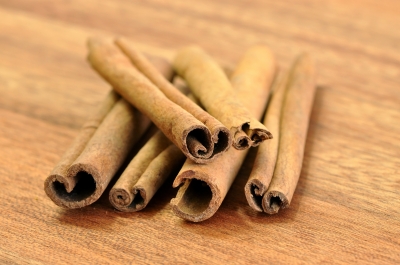 Image: Michelle Meiklejohn / FreeDigitalPhotos.net
How To Best Consume Cinnamon
Cinnamon is a wonderful healthy food, but don't go crazy over it. It is a very potent substance, and is meant to be consumed in small amounts. You only really need to consume half a teaspoon (or maybe a full teaspoon) of ground cinnamon each day to experience its wonderful health benefits. Consuming more than a few tablespoons a day is a bit too extreme.
There are many ways you can integrate cinnamon into your diet. You can sprinkle it over your cereal or oatmeal for breakfast. You can mix it in your tea. You can drink a glass of water with a pinch of cinnamon and some honey (to taste).
The less the cinnamon has been processed the better. So technically, it's probably best to use cinnamon sticks, but I find it easier to use the powder form, and I don't think very many (if any) health benefits are lost by consuming the powder form.
The powder form of cinnamon can stay fresh for several months - up to six months, if stored in a cool dry place (such as a refrigerator). After that, it may still be safe to consume, but it may not taste as good or have as many health benefits. Cinnamon sticks, on the other hand, can last more than a year (possibly even 2 or 3 years) under the same conditions - in a cool place, such as the fridge.
Even if you don't plan on consuming cinnamon on a regular basis, it's helpful to know some of the health benefits of cinnamon so that you can consume it in small quantities, as desired.